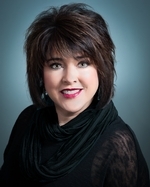 205-884-0400
205-884-0401 fax
205-369-0852 cell phone

418 Martin Street South
Pell City AL, 35128
Receive Email Alerts from Me
Born in Birmingham on June 6, 1966 to Mr. & Mrs. H.L. Roberts.  The family moved to Pell City, Al, from Birmingham when I was 4 years old.  I have two siblings, a sister, Wendy Isbell and a brother, Bubba.
My family consists of my husband, Bo and 3 children, Justin, Brooke, & Hollyann.  Justin will graduate UAB in May of 2017, whereas he will be Dr. Justin Evans, MD.  Brooke, is a teacher in the Pell City schools system and is married to Will Starling, and will become parents in April.  Hollyann is enrolled in college at Troy University.
A 1984 graduate of Pell City High School, in 1986, at age 20, I opened my own business named Trendsetters and operated it for 27 years prior to selling it three years ago.   I have always had a strong interest in real estate and had many clients as realtors.  After confiding with Mike and Pam Hendrix, whom I now work with at The Realty Pros, I decided to get my license.  They have been a great mentor to me in my real estate business.
Working in real estate has been very rewarding and is always a learning process.  The most important to me is balancing priorities.  When you keep this in line, all else falls right in to place.
#787173 | Single Family Home
#775122 | Single Family Home
#780575 | Single Family Home
#780473 | Single Family Home
#779771 | Single Family Home
#792985 | Single Family Home